Ribbon Cut on State's First School Specifically Built for Montessori Method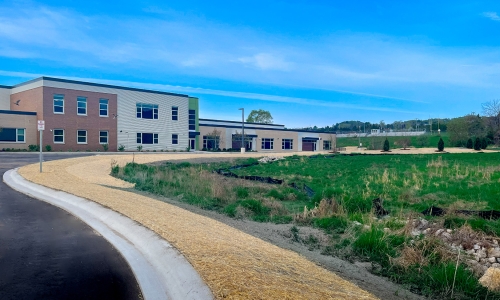 Contact:
Meg Gernaat
Communications Specialist
269.929.2638
mgernaat@miller-davis.com
Miller-Davis Company recently joined Traverse City Area Public Schools and the Traverse City community to celebrate the completion of the district's new Montessori School. The first public school in Michigan to be built to specifically honor the Montessori method, the facility will house between 500 and 550 students and serve toddlers through eighth graders beginning in fall 2023.
"This project dedicates a facility to the Montessori Public School experience which allows for the different philosophy and educational practices created by Maria Montessori in spaces specifically designed for her educational methods," said Christine Thomas-Hill, assistant superintendent of finance and operations at Traverse City Area Public Schools.
Traverse City Area Public Schools has offered Montessori education for over 20 years. Located on Franke Road, the location of their new facility allows for a much-improved layout over the district's previous location in the Glenn Loomis building at the corner of Oak and Thirteenth Streets. The 84,000-square-foot, two-story school features a pod classroom structure, a science lab, an art room, a Spanish room, a media center spanning two floors, a greenhouse, a full-size gymnasium, and music rooms.
As construction manager for the project, Miller-Davis oversaw the coordination of more than 33 subcontractors and trade contractors, facilitated over 160 hours of planning, progress, and Owner-Architect-Contractor (OAC) meetings, and employed years of expertise to weather the industry's pandemic challenges. This project overcame supply chain shortages and labor scarcity to meet the district's goals. The summer of 2022 was particularly challenging for the on-site project team, working with a compressed schedule and tight project footprint to complete concrete and paving work while the building envelope was still being constructed. Miller-Davis' site team demonstrated exceptional proficiency in coordinating and effectively communicating the site work sequence. A meticulously tailored zone plan and schedule were devised exclusively for the summer work, which garnered unanimous approval and adoption from all project stakeholders driving project success.
"This facility reflects the exceptional workmanship and attention to detail of our team and project partners," said Jack Abate, VP-Construction Operations at Miller-Davis Company. "Genuine collaboration is essential on projects like the Montessori school. Witnessing the team's ability to come together to overcome challenges and work harmoniously to achieve the project's goals was a real honor."
Miller-Davis Company is currently overseeing Traverse City Area Public Schools' West Senior High Athletics Complex, Transportation Facility Project, and is assisting Diekema Hamann Architecture and Engineering with the district's 2024 facility assessment.
Miller-Davis Company is a full-service construction company providing general contracting, construction management, design-build, and construction consulting services. Founded in Kalamazoo, Michigan in 1909, the company maintains its headquarters in Kalamazoo, has a dedicated northern Michigan team that operates out of the Traverse City area, and has a portfolio that features projects throughout the lower peninsula. Learn more at miller-davis.com.