Miller-Davis to Oversee Construction of Consumers Concrete New Block Plant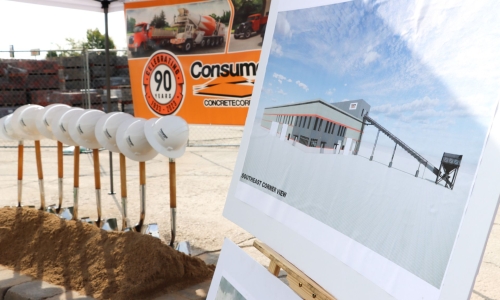 It was a beautiful morning when friends, family, and longtime colleagues gathered at 3809 E Michigan Ave. to move the first shovelfuls of soil for Consumers Concrete's new state-of-the-art concrete products plant. Located on land directly north of Consumer's current concrete production facility, the new 37,000-square-foot space is poised to have a profound impact on the company's current production capacity.
"Our team has logged thousands of miles, by car and by plane, visiting similar plants all over the country to determine the best equipment for us—the best fit for this facility—to help us meet our goals," said Adrienne Heidema, Consumers Concrete President and CEO.
The new plant will feature 500 tons of indoor aggregate storage capacity and produce concrete masonry units, segmental retaining wall units, and pavers. The facility is set to significantly increase current production levels and enhance the capacity to manufacture superior-quality products within a cleaner and safer environment. The plant's upgraded technology will encompass automatic mold changes, fully automated drivelines and green lines, and the incorporation of robotic lifting to improve the safety of employees involved in concrete material production.
Among the competing firms, Miller-Davis Company, with its impressive track record of over 100 years in the field, was chosen as the general contractor for the project. Miller-Davis also oversaw the construction of Consumers' ready-mix facility in the 1980s and is eager to collaborate with partners—Sali Group-ES, TowerPinkster, and local subcontractors—to drive success for a project that will yield significant benefits for Consumers' employees, the community, and the construction industry.
"It's not every day that you get to build something for a partner you've worked alongside for nearly a century," said Dan Coffman, President of Miller-Davis Company. "This project means a lot to our team and provides us with the rare opportunity to build something that will also enhance our industry's resilience."
A sentiment shared by all speakers during the morning's groundbreaking ceremony was a deep sense of pride in Consumers' ability to manufacture products that are not susceptible to rust, decay, or fire, ensuring their longevity over decades and contributing positively to the health, safety, and well-being of the communities they serve. Consumers' products also provide thermal mass benefits, reducing heating and cooling needs, and are also sustainable, sequestering carbon dioxide throughout their lifetime.
"The construction of this new facility allows Consumers to be a catalyst for growth in masonry and create new, innovative products. This is an exciting time for our industry and for Consumers Concrete," said Melissa Kline, Consumers Concrete Sales Manager.
Consumers Concrete is a Pure Michigan Company and has been family-owned and operated for 90 years.
Their current block production space will be decommissioned when the new facility is complete and operational in late summer of 2024.