Miller-Davis Company Announces Leadership Transition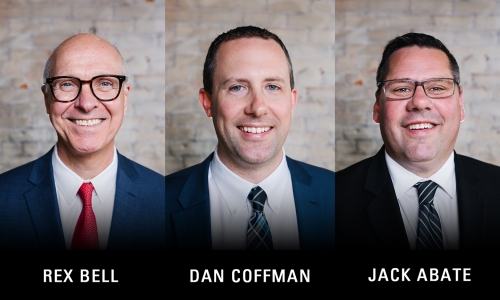 Contact:
Meg Gernaat
Communications Specialist
269.929.2638
mgernaat@miller-davis.com
Founded in 1909, Miller-Davis Company has served the construction needs of Southwest Michigan and beyond for over a century. A steadfast commitment to leadership growth has allowed the company to provide superior services to clients while standing the test of time — a commitment reaffirmed on December 1, 2021, when Miller-Davis welcomed its 9th leadership transition in its 112-year history.
The planned succession of the Kalamazoo-based company's leadership comes at a time of stability and development for Miller-Davis. Company leadership said this transition will catalyze long-term success and help bring their goals for innovation and advancement to fruition; This work has also ignited a renewed dedication to the tenets the company was founded on — skill, integrity, and responsibility.
"Maintaining a long-term perspective has been fundamental to how we conduct business and how we treat people — employees, customers, and project partners," Rex Bell, who led the company as President from 1996 through 2021, explained. "Staying true to our principles and fostering relationships, some spanning over 60 years, has been key to our success."
Bell will serve as Miller-Davis' Chief Executive Officer and Board Chairman, continuing to lend his expertise and insight to guide company practices and cultivate success. Dan Coffman, Chief Financial Officer and 7-year Miller-Davis employee, now leads the company in his new role as President. He recognizes that this is an exciting time for Miller-Davis Company and says he feels honored to help shape the company's path forward.
"Our clients deserve and expect a quality product and service that is delivered on time and on budget — our people have always driven that," stated Coffman. "Supporting their continued growth and success is vital to growth and success of our company."
Jack Abate, a 19-year Miller-Davis employee and the company's previous Construction Operations Director, has transitioned to Vice President – Construction Operations.
"People are at the core of our work and have helped lay the foundation of our legacy," Abate shared. "I'm excited to help strengthen the company's ambitious approach to meeting the demands of 21st-century construction"
Miller-Davis Company is excited to enhance and expand its level of service. Staff members are eager to embrace the opportunities their efforts will provide the company, project partners, and clients—well into the next 100 years.