Groundbreaking held for new senior independent living facility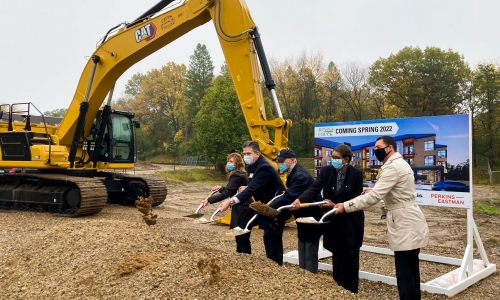 Contact:
Liz VandenHeede
Communications and Marketing Manager
269.250.8393
evandenheede@miller-davis.com
Construction has begun on Heritage Community of Kalamazoo's new $50 million independent living facility, Revel Creek. Miller-Davis Company is serving as construction manager for this project that will bring new, modern independent living options for older adults in Kalamazoo.
The new facility will be located on Heritage Community's existing campus on Portage Street and is scheduled to open in 2022. Revel Creek will feature 60 one- and two-bedroom apartments, smart home technology, underground parking, a wellness center, outdoor terraces and abundant green space.
"From its founding, Heritage Community has been a people-focused organization, constantly learning, growing and changing to meet the needs of the seniors we serve. Revel Creek is the next exciting chapter in that ongoing story," said Rex Bell, president of Miller-Davis Company.
Miller-Davis and Heritage Community share a long history as well as many core values, such as knowledge, loyalty, and honesty. Like Heritage, Miller-Davis has deep roots in our local community, serving through charitable giving and employee volunteerism. Recently, Miller-Davis has partnered with and provided construction services to Heritage Community for various smaller projects over the past 15 years. Rex Bell has served on the Heritage Community Board of Directors since 2012, following in the footsteps of former Miller-Davis president, Cameron Davis, who served on Heritage Community's Board during the 1960s and 1970s. Miller-Davis is thrilled to continue this partnership with the construction of Revel Creek.
Perkins Eastman is the architect and Greenbriar is the developer for Revel Creek. Byce & Associates are providing civil engineering services for the project. Learn about Revel Creek at revelcreek.com.