Facility will Support Functionality, Efficiency at Ford Intl Airport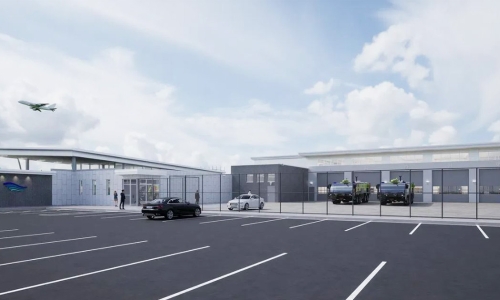 Miller-Davis Company stood alongside project partners DLZ and the Gerald R. Ford International Airport Authority for the August 9th groundbreaking of the airport's new aircraft rescue and firefighting (ARFF) facility. The innovative $14.5 million facility will boast efficiencies for the Airport Authority's 19-member ARFF team, leading to heightened passenger safety, improved aircraft operations, and enhanced community support.
"Our team does an excellent job maintaining the highest level of safety, and they look forward to a new building that supports enhanced functionality and efficiency," said Lisa Carr, Public Safety and Operations Director for the Ford International Airport Authority. "By investing in cutting-edge infrastructure and advanced training for our firefighting teams, we can further prepare for any potential emergencies or incidents that happen at the Airport or surrounding areas."
Operating around the clock, the ARFF team is extensively trained to address aviation accidents and incidents. This encompasses tasks such as rescuing passengers and crew, minimizing property damage, and conducting salvage operations. Spanning 25,000 square feet, the new state-of-the-art facility will incorporate spacious bays to accommodate advanced firefighting vehicles, specialized equipment, and expanded training areas for ARFF personnel. Additionally, this modern center will be an extension of the recently finalized Airport Operations Center and will serve the dual purpose of training and assisting Ford International Airport's mutual aid partners
The construction of the new facility is funded by a combination of federal and state grants, municipal bonds issued by the Airport, and user fees. Two-thirds of the project funding has been pledged by the FAA under the Bipartisan Infrastructure Law, specifically through the Airport Improvement Grant program. The collaboration between the FAA and the Michigan Department of Transportation demonstrates intentional community investment, fostering the growth of airport operational endeavors.
Chosen from a pool of nine competing firms in June 2023, Miller-Davis emerged as the preferred general contractor. The Airport Authority prioritized a firm with an extensive portfolio highlighting work that paralleled the current demands and precision required for the project. Additionally, firms were expected to align with MBE and WBE inclusion objectives, adhere to prevailing wage prerequisites, incorporate EEO clauses, demonstrate a Good Faith Effort, and exhibit a preference for Buy American practices. Miller-Davis was ready to hit the ground running as soon as the project was out for bid.
"We pride ourselves on going the extra mile for our owners, and it's reflected in our product," said Miller-Davis Vice President of Construction Operations, Jack Abate. "We engaged with hundreds of subcontractors for this project, and we are happy to do so. It's how we ensure owners get the best value at the best price."
Subcontractor partners helping to bring this project to fruition include A-1 Asphalt, Advantage Mechanical Refrigeration, Affordable Excavating, Brigade Fire Protection, Burgess Concrete Construction, Compaan Door & Operator Company, CS Erickson, DCA Products, Division 10, Driesenga & Associates, Fence Consultants of West Michigan, Flairwood, KONE, Kortman Masonry, Landscape Design Services, Lansing Glass Company, Ledbetter Construction, McIntire Brass Works, Rayhaven Group, S A Morman & Company, Schepers Brothers, Inc., Schepers Concrete Construction, Sobie Company, Structural Standards, The Casper Corporation, Versatile Roofing Systems, Visual Entities Inc., and Wolverine Enclosures.
The project is expected to be completed by February 2025.