Enhancing the Pre-Construction Experience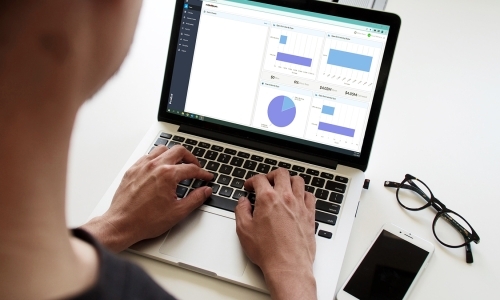 A construction project's foundation for success is established during the estimating and pre-construction phase, allowing a project team to identify benchmarks that will maximize efficiency and minimize surprises. Miller-Davis has been an expert in pre-construction services for 100+ years, but we recognized that how we coordinate and execute those services would have to evolve to best serve the demands of a post-pandemic world. While enhanced communication, dynamic collaboration, and a whole-team approach have always been hallmarks of every Miller-Davis construction project, the ability to innovate and offer enhanced service methods has proven advantageous.
"Our drive to evolve has been the key to our success and growth," said Miller-Davis Company Vice President Jack Abate. "We knew it was important to document our current practices to identify pain points before selecting the technology that would allow us to achieve our goals. We then piloted platforms to understand potential benefits and how they can improve our current workflows before committing to company-wide implementation. Our process has improved efficiency and accuracy for our teams which, in turn, benefits our clients and projects."
Today, project executives, working alongside the company's estimating team, lead the pre-construction process, allowing their involvement from budget development through project completion. This inclusive project delivery experience provides significant value for owners and project partners by offering a multidimensional view of project scope, schedule, cost, and current market conditions. Enhanced communication and transparency among project partners and stakeholders are an added benefit of this process.
Miller-Davis project executives drive each project with the owner's expectations and best interests in mind. Because involvement comes at an early stage in the construction process, they're able to apply years of industry knowledge from day-one to meet unique project needs. This structure fosters an entirely new level of problem solving and collaboration.
The implementation of cloud-based platforms like ProEst allows Miller-Davis to manage multiple teams, trades, and subcontractors at once while creating more competitive bids in nearly half the time. Complementary to the company's cloud-based project management platforms, ProEst allows for companywide productivity improvement and a better understanding of project goals, information, and tasks to accelerate decision-making.
"ProEst is allowing Miller-Davis Company to improve our communication while keeping all stakeholders connected for better decision making," commented Ariel Castillo, strategic process and VDC specialist for Miller-Davis Company. "Our goal is to integrate and streamline, within reason, our processes to improve response time without affecting quality on today's high-demand projects."
Providing modern pre-construction services requires a team to have a holistic view of projects. Because of this, Miller-Davis continues to engage subcontractors, facility managers, and building end-users in discussions about commissioning, owner occupancy, and project closeouts. While these phases are often associated with the end of a project's lifecycle, identifying elements like documentation review and integration of closeout requirements during pre-construction produces robust deliverables.
Hiring a construction manager focused on enhanced pre-construction services adds a layer of certainty for clients and maximizes project efficiency. Miller-Davis' forward-thinking approach to project takeoff and management drives success to exceed owner expectations. Click here to learn more about how our services can benefit your bottom line.