County's First Facility Now Open to Serve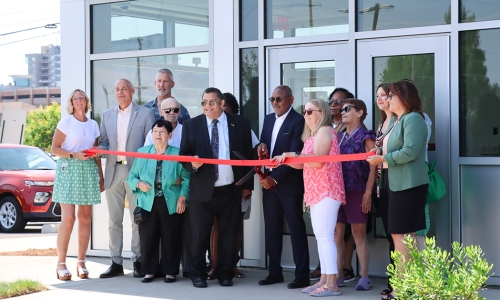 Less than a year after shovels broke ground on Integrated Services of Kalamazoo's (ISK) Behavioral Health Urgent Care and Access Center, project partners and community advocates assembled to celebrate the ribbon-cutting ceremony, marking a momentous first for southwest Michigan.
As the first-of-its-kind facility in Kalamazoo County, the new 24-hour center offers unparalleled services, granting walk-in, same-day access and urgent care for individuals with mental health and substance use disorders. At nearly 8,000 square feet, the standalone building encompasses multiple treatment rooms, offices, waiting areas, a reception area, a lobby, a security office, and a dedicated emergency entrance designed for police and emergency medical services.
Strategically located at 440 W Kalamazoo Ave., the facility is near areas with a high population seeking behavioral health services. The access center will have a profound impact, potentially reducing visits to local hospital emergency departments for behavioral health care by up to 68%. Moreover, it aims to diminish the need for law enforcement and emergency medical services intervention in mental health crises. By offering walk-in access to mental health professionals and facilitating connections to other local services, ISK officials are optimistic for improved outcomes for individuals experiencing crises.
Miller-Davis Company oversaw the construction of the $5M facility. With more than 100 years of one-of-a-kind construction expertise, managing pioneering projects like ISK's is not uncommon for the firm.
"We could not have asked for better partners on this project," said Howard Williams, Miller-Davis Company project executive. "We pride ourselves on taking ownership of our work, and projects like this—that will have a long-term impact on the health of this community—enhance our sense of purpose."
The Behavioral Health Urgent Care and Access Center is open weekdays from 8 a.m. to 8 p.m. through Friday, July 21, 2023. The facility will be open 24 hours, seven days per week starting Monday, July 24, 2023.
Issues the Urgent Care Center Can Address
Mental health crises
Intrusive or disturbing thoughts
Suicidal thoughts
Thinking of harming yourself or others
Depression, anxiety
Panic attacks, severe emotional distress
Problems with substance use
Acute grief reactions
Trouble managing daily activities due to mental health or substance use
Services Offered
Crisis stabilization
Screening for services
Referrals to providers for treatment
Safety planning
Connections to community resources
Compassionate listening
The center's funding was sourced from various channels, which included local philanthropic organizations such as the Irving S. Gilmore Foundation, along with funds allocated to ISK by Kalamazoo County through the American Rescue Plan Act.