Rex Bell Inducted into Michigan Construction Hall of Fame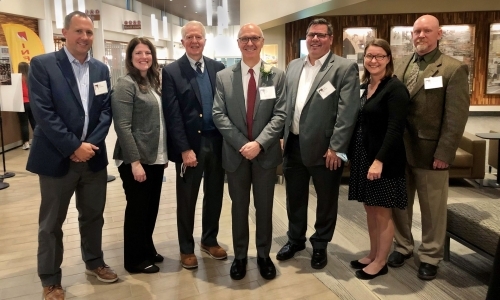 Contact:
Meg Gernaat
Communications Specialist
269.929.2638
mgernaat@miller-davis.com
Miller-Davis Company President Rex Bell was inducted into the Michigan Construction Hall of Fame on October 28 at Ferris State University. The Associated General Contractors (AGC) of Michigan nominated Bell for his many contributions to the construction industry and his community throughout his career.
"It is a great distinction to be inducted into the Hall of Fame," said Bell. "To be formally recognized alongside others who have contributed so much to our industry is truly an unexpected honor and a humbling experience."
Throughout his 44-year tenure at the Kalamazoo-based construction management and consulting firm, Bell has served as a project engineer, project manager, chief estimator, and vice president of estimating. He has led the Company as President since 1996 and, during that time, he has overseen over $1.3 billion in construction.
Bell led Miller-Davis to expand upon the company's founding tenants, like construction excellence and good corporate citizenship. In 2001, he oversaw the establishment of the Miller-Davis Foundation. Since its inception, the Foundation has given over $500K in financial assistance to disadvantaged persons, a variety of southwest Michigan organizations, and endowed scholarships. The company has completed several award-winning projects under Bell's leadership, including two national AGC Build America Awards for Kalamazoo College's Hicks Student Center and the Arcus Center for Social Justice Leadership. Miller-Davis also received several AGC Build Michigan Awards during this time.
"The construction industry is continually evolving and has helped me to be a lifelong learner. One lesson taught to me by my family has been foundational for me: You have the potential to do anything that you want to do, and no matter what you do, always do it to the very best of your ability," Rex shares.
The Michigan Construction Hall of Fame is located inside Ferris State University's Granger Center for Construction and HVACR on its Big Rapids campus and serves as a permanent site to recognize leaders of the Michigan construction industry and their achievements. Click here to learn more.