University of Notre Dame Hesburgh Library Renovation has Topping Out Ceremony to Mark Milestone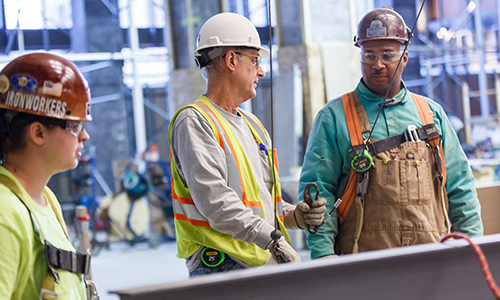 The University of Notre Dame and Miller-Davis Company, construction manager for the University's Hesburgh Library Renovation project, held a topping out ceremony to celebrate a construction milestone by placing the final beam for the Entrance Gallery project.
The topping out ceremony is a common tradition that recognizes the skills of the craftsmen and summons good fortune for the project. The last time a ceremony of this kind was held at the Hesburgh Library was in 1962, when it was originally built.
"The Entrance Gallery renovation has transformed the library into a more open and collaborative space for students. This topping out ceremony signifies a pivotal point in the renovation project," stated Jack Abate, Senior Project Manager with Miller-Davis.
Miller-Davis, working with the project designer Shepley Bulfinch, is currently scheduled to complete the Entrance Gallery project in March 2016. The Entrance Gallery project is the first part of the overall master renovation plan that will continue at the iconic Hesburgh Library.
Founded in 1842, the University of Notre Dame provides a distinctive voice in higher education that is at once rigorously intellectual, unapologetically moral in orientation, and firmly embracing of a service ethos. The nation s pre-eminent Catholic university and rated among the top 25 of all U.S. institutions of higher learning, Notre Dame is organized into four undergraduate colleges – Arts and Letters, Science, Engineering, and the Mendoza College of Business – the School of Architecture, the Law School, the Graduate School, 10 major research institutes, more than 40 centers and special programs, and the University library system. Located adjacent to the city of South Bend, Ind., which has a metropolitan population of more than 300,000, Notre Dame is highly residential, with 80 percent of students living on campus, and also is known for the quality of its physical plant and the beauty of its campus, including the Golden Dome of the Main Building, the world's most recognized university landmark.