The "Greening" of Education Institutions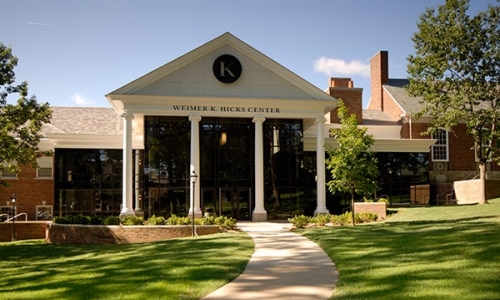 There is a growing movement, particularly in higher education, to implement successful strategies for more sustainable campuses. This effort covers the gamut from curriculum changes, waste reduction and recycling and enhanced learning environments to sustainable construction and more. The recently completed Weimer K. Hicks Center at Kalamazoo College is a realization of these efforts.
The Hicks Center was an exciting project. A student lead initiative nudged the project from incorporating sustainable elements to being Kalamazoo's first LEED certified new construction project. The goal of LEED Certification was surpassed and the project was awarded a Silver Certification by the USGBC, also a first in Southwest Michigan. A new generation of students is embarking on higher education, and environmental sensitivity is a major consideration as they decide where to attend college.
The regional and national attention garnered by the Hicks Center project is proof that experience and hard work applied with an eye toward innovation pays dividends. Miller-Davis Company was awarded one of only thirteen 2009 Aon Build America awards, considered the "Oscars" of the construction industry, for this project. We also received an AGC Build Michigan award for the Hicks Center, as well as named one of the best new green projects in the Midwest region by Real Estate & Construction Review.
Miller-Davis Company continues to see momentum building for the acceptance of sustainable building practices within educational communities. We were recently awarded the Kalamazoo Valley Community College (KVCC) Student Success Center project. This project is an expansion and relocation of the current center and will also provide additional faculty office space and renovation of classrooms. This project offers KVCC the opportunity to expand their commitment to sustainable business practices with the addition of their first LEED Certified facility. The synergy of an improved educational environment with the bringing together of campus services such as counseling, tutoring and financial assistance is intended to enhance the students experience as they strive to succeed in their academic endeavors. KVCC anticipates that embracing LEED Certification as a standard for this construction project will further inspire students.
Sustainable business practices are core to Miller-Davis Company and we are proud to be on the leading edge of sustainable construction in the region. Miller-Davis Company has been involved in environmentally sensitive construction since the early 90's, long before it became stylish. The advent of LEED Certification offers a metric by which to measure the environmental success of a project. Making the commitment to LEED Certification insures that all members of the team maintain a focus on sustainable practices throughout all phases of construction.
We are particularly pleased to see the increased acceptance of sustainable building practices across the entire construction industry. In additional to higher education facilities, Miller-Davis is currently working on LEED certified projects for Kalamazoo Regional Education Service Agency (KRESA) and Landscape Forms. Miller-Davis Company and its employees are honored for being selected to build these innovative projects and look forward to many more!