Safe Work Hours Milestone Achieved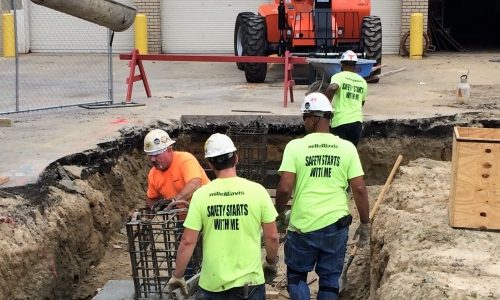 Contact:
Liz VandenHeede
Communications and Marketing Manager
269.250.8393
evandenheede@miller-davis.com
Across all our work, safety is a top priority for Miller-Davis Company. We are pleased to announce that, as of 2019, we reached over 1 million hours worked without a time loss injury. The official total is 1,026,365 safe hours worked. These hours represent time worked over the past nine consecutive years without an injury occurring that resulted in an employee needing to miss work.
The time includes all hours worked by Miller-Davis personnel, including office hours, field hours and hours spent completing self-perform work on job sites. Miller-Davis self-performs concrete, steel erection, carpentry, selective demolition, interior finishes and equipment rigging and setting.
Jobsite safety is a top priority on every Miller-Davis job site, and we take great pride in the outstanding safety record we have achieved. Achieving this milestone takes the commitment of everyone on our job sites putting safety first every day.
"This is a great achievement that highlights our entire team's dedication and commitment to the safety and well-being of all involved in the construction process to ensure each individual returns home safe each and every day," said Josh Seiler, Miller-Davis safety manager.
In addition to recently reaching 1 million safe hours worked, Miller-Davis Company has been consistently recognized for our safety record by the Associated General Contractors of America (AGC). Miller-Davis has received the AGC of Michigan – Michigan Outstanding Safety Performance Award for the past 11 years and has received the AGC of America – National AGC Safety Award for the past 10 years.