Adventures in Brewing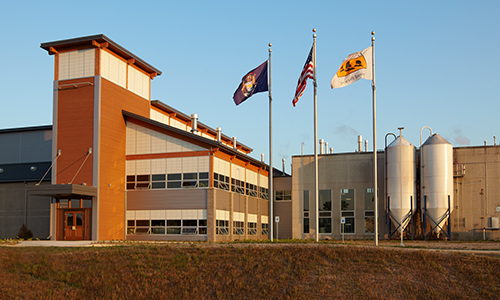 According to the Brewers Guild, Michigan brewers pump $133 million a year into the state economy, including $24 million in employee compensation. Of these, Southwest Michigan's Bell's Brewery ranked eighth in total volume for all domestic craft brewers in the United States in 2010. To meet the demand of devoted craft beer fans Bell's Owner, Larry Bell, needed to increase production capacity.
Miller-Davis is proud to add Bell's Brewery to the long list of amazing projects that we have worked on and that have left a major impact on the communities we serve. Sometimes our most complex projects are the most rewarding and in April 2011 we broke ground at Bell's to begin construction on a sophisticated, one-of-a-kind facility.
Owners and Facilities Managers know the difficulties of expansion projects and the negative impact production downtime can have on business. Intense supervision was essential to complete the yearlong construction project on time without disrupting operations. In fact, there were less than two weeks of downtime when integrating the brewery process systems from the existing facility into the new space. Creative problem solving and careful pre-planning and coordination were employed on a daily basis by the Bell's and Miller-Davis team to keep the project on schedule.
To accommodate the sheer magnitude of the grain handling system as well as numerous silos, vessels, and kettles, Miller-Davis had to construct the building around the customized brewing equipment. This highly specialized facility incorporated exterior pre-cast insulated panel walls, structural steel framing, membrane roofing, and timber framing for the brew house. Miller-Davis also utilized our General Contracting Team, to self-perform specific tasks to aid in keeping the project on schedule. The strong relationship and transparent communication between Bell's and Miller-Davis' teams made the coordination of contractors, materials, and Owner-purchased equipment seamless.
Energy efficiency and environmental responsibility were also goals for the Bell's project. They were able to reduce energy costs through the installation of a sophisticated geothermal system that uses a series of heat exchangers and energy storage to capture heat at multiple points in the process. The reclaimed energy is used to pre-heat water and wort prior to boiling, effectively reducing overall energy needs and waste. Miller-Davis has been in the sustainability arena for over 20 years and fully supports our Owner's efforts to incorporate "green" features into their projects.
Today, Bell's Brewery has the capacity to brew 500,000 barrels per year, compared to 200,000 just a year ago. This expansion project further demonstrates Bell's commitment to local involvement: over 400 skilled trade workers were employed, nearly all the components for the facility were made in the USA, and most of the lumber for the brew house entry originated in Southwest Michigan. Miller-Davis enjoys collaborating with our Owner's to positively impact the future of our local economy and is honored to work with people who are so passionate about what they do.
If you would like to talk about your next expansion project please give us a call.
Learn more about the Miller-Davis General Contracting Team and services as well as some of our recent projects and industrial work.
Please contact Miller-Davis Company today to discuss improving your building's efficiency and lowering operating costs.